Posted on Thursday, Mar 3rd 2022
The global pandemic accelerated the growth of the Unified Communication-as-a-Service (UCaaS) market with vendors like Microsoft and Zoom seeing improvement in their market share. In 2020, the UCaaS subscriber base of both Microsoft and Zoom grew to over 1 million users each. But RingCentral (NYSE:RNG) remained the market leader with a 20% market share.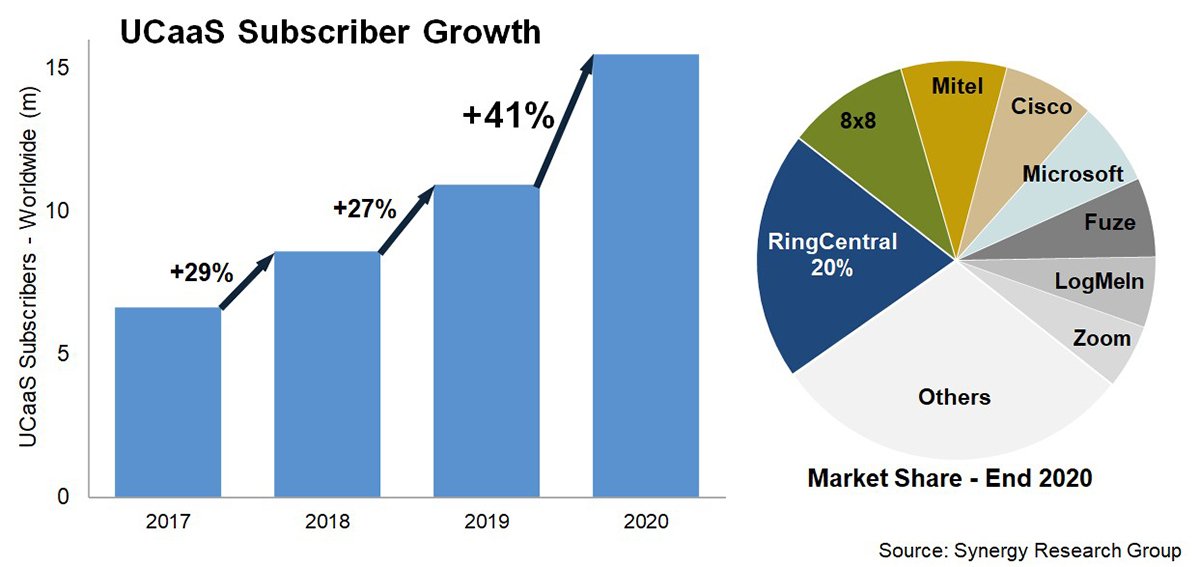 RingCentral's Financials
RingCentral's recently released fourth-quarter revenues grew 34% to $448 million, significantly ahead of the market's forecast of $434.53 million. Non-GAAP net income per diluted share was $0.39, ahead of the Street's estimates of $0.37.
By segment, software subscriptions revenue increased 37% to $420 million. Other revenues grew 0.9% to $28.3 million.
Among key metrics, Annualized Exit Monthly Recurring Subscriptions (ARR) grew 39% to $1.8 billion. RingCentral Office ARR increased 41% to $1.7 billion. Mid-market and Enterprise ARR, defined as $25,000 or more in ARR, increased 52% to $1.1 billion.
It ended the year with revenues growing 35% to $1.6 billion. Adjusted net income per diluted share was $1.34, compared to $0.98 in 2020.
For the first quarter, RingCentral expects revenues of $455-$459 million, representing an annual growth of 29% to 30%. It expects subscription revenues of $426-$429 million, representing annual growth of 31% to 32%. Non-GAAP EPS is expected to be $0.34. For the full year, it expects revenues of $1.990-$2.015 billion, representing an annual growth of 25 to 26%. Non-GAAP EPS is expected to be $1.69 to $1.72.
RingCentral's Partner Expansion
Recently, RingCentral and Vodafone Business announced Vodafone Business UC with RingCentral, its new communications platform. It brings together RingCentral Message Video Phone with Vodafone's mobility and 5G capabilities to provide customers with more choice, flexibility, and simplicity in workforce collaboration and remote working. The service combines Vodafone Business' mobile-first approach, global brand, reach, and scale with RingCentral's deep UCaaS and CCaaS expertise to combine all preferred modes of communication into a single intuitive app that is accessible on any device.
It also announced the expansion of its partnership with Deutsche Telekom to create RingCentral X. The service is powered by Telekom and includes RingCentral Message Video Phone. It combines RingCentral's team messaging, video meetings, and cloud phone system onto a single platform, allowing customers of all sizes to work from everywhere.
Analysts believe that RingCentral still has a long way to gain from its partner network. Its direct and partner ARR increased 38% over the year to $1.03 billion, accounting for nearly two-thirds of its total ARR. It has established partnerships with Avaya, Alcatel-Lucent, Atos, and Mitel. But its relationships with BT, T-mobile, Telus, Verizon, and Vodafone are still in the early days. RingCentral will continue to see growth driven by its penetration into these partners.
Its stock is currently trading at $125.77 with a market capitalization of $11.6 billion. It touched a 52-week high of $388.35 in March last year and a 52-week low of $117.49 in February.
Disclosure: All investors should make their own assessments based on their own research, informed interpretations, and risk appetite. This article expresses my own opinions based on my own research of product-market fit, channel execution, and other factors. My primary interest is in product strategy. While this may have bearing on stock movements, my writings tend to focus on long-term implications. The information presented is illustrative and educational, but should not be regarded as a complete analysis nor recommendation to buy or sell the securities mentioned herein. I am not a registered investment adviser and I am not receiving compensation for this article. I am an investor in this company.
This segment is a part in the series : Cloud Stocks