Posted on Wednesday, Jul 21st 2021
According to a recent report, the global Application Performance Management (APM) market is estimated to grow at 11% CAGR to reach $12 billion by 2026 from $6.3 billion in 2020. Dynatrace (NYSE: DT) recently reported another stellar quarterly performance, driven by the growth in the industry.
Dynatrace's Financials
For the recently reported fourth quarter, Dynatrace's revenues grew 27% to $197 million, ahead of the Street's forecast of $191.81 million. EPS of $0.15 was ahead of the Street's forecast of $0.14 for the quarter.
Among key metrics, Annual Recurring Revenue (ARR) rose 35% to $774 million. Subscription and services revenue grew 32% to $183 million.
For the full fiscal year 2021, revenues grew 28% to $704 million and EPS was $0.63.
Dynatrace expects to end the first quarter with revenues of $202-$204 million and non GAAP income of $0.14-$0.15 per share. The market was looking for revenues of $197.13 million for the quarter with an EPS of $0.15. Dynatrace expects to end the year with revenues of $885-$900 million with an EPS of $0.59-$0.62. The market expects earnings of $0.64 per share on revenues of $860.32 for the year.
Dynatrace's AI Focus
Recently, Dynatrace announced a new service called the Davis Security Advisor. The service is an AI-powered enhancement to the Dynatrace Application Module, giving DevSecOps teams the ability to make greater informed, real-time decisions, while also addressing the most critical vulnerabilities first, reducing the risk that faces their organization and leaving more time for innovation. Optimized for cloud-native environments, the AI-powered engine automatically monitors all software libraries used in preproduction and production and removes false positives. It also aggregates vulnerability data in real-time and prioritizes remediation based on multiple dimensions of risk, including the number of vulnerabilities, the severity of the vulnerability, threat context, asset exposure, and potential business impact.
Additionally, Dynatrace also announced the launch of agentless support for OpenTelemetry. The upgrade allows customers to send OpenTelemetry data directly to the Dynatrace Platform instead of routing it through agents. The capability adds to the OpenTelemetry data already automatically captured by Dynatrace OneAgent, such as pre-instrumented open-source frameworks, cloud services, and custom metrics. Dynatrace customers will thus be able to use the OpenTelemetry open-source standard for any data source and leverage Dynatrace's AIOps and automation capabilities across their cloud-native technologies. The approach will enable organizations to optimize cloud-native ecosystems at enterprise scale.
Dynatrace's products have been well-received in the market. According to a recent Gartner magic quadrant release, the company was ranked the highest in the APM market, ahead of competitors such as Cisco's App Dynamics, New Relic, and Datadog.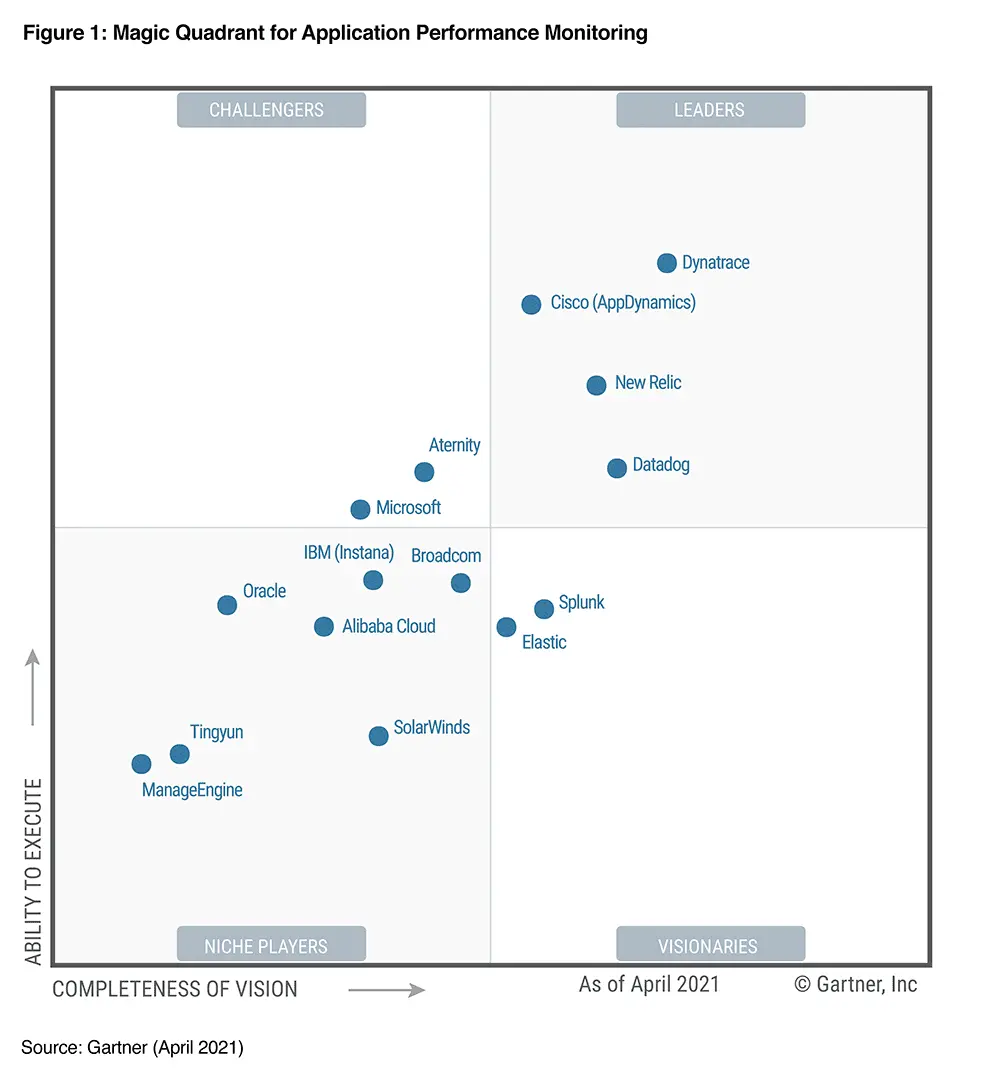 The competition faced by Dynatrace has been severe. According to an IDC report published in 2019, Dynatrace's market share in the APM market fell from over 10% in 2016 to under 9% by 2018. During the same period, Cisco's AppDynamics expanded its lead, growing from under 7% in 2016 to over 11% by 2018, while New Relic grew from 6% to 10%. Cisco expanded its presence in the market by relying on its deeper pockets and a wider network. IBM and Broadcom are also close competitors, accounting for an 8% market share each. Dynatrace does have its work cut out.
Its stock is trading at $60.34 with a market capitalization of $17.1 billion. It had climbed to a 52-week peak of $62.98 earlier this month. It was trading at a 52-week low of $33.83 in October last year.
Disclosure: All investors should make their own assessments based on their own research, informed interpretations, and risk appetite. This article expresses my own opinions based on my own research of product-market fit, channel execution, and other factors. My primary interest is in product strategy. While this may have bearing on stock movements, my writings tend to focus on long-term implications. The information presented is illustrative and educational, but should not be regarded as a complete analysis nor recommendation to buy or sell the securities mentioned herein. I am not a registered investment adviser and I am not receiving compensation for this article.
This segment is a part in the series : Cloud Stocks