Posted on Tuesday, Jun 7th 2022
Pleasanton, California-based Veeva (NYSE: VEEV) recently reported its first-quarter results that continued to outpace market expectations. The company crossed a major milestone as it ended the quarter with an annualized revenue rate of over $2 billion. The market is very pleased with Veeva, and its stock jumped 13% in the after-hours trading session.
Veeva's Financials
Veeva's Q1 revenues grew 16% over the year to $505.1 million, ahead of the Street's forecast by 1.95%. Non GAAP EPS was $0.99, surpassing the Street's estimates of $0.92 per share.
By segment, revenues from subscription services grew 18% to $402.6 million. Professional services revenues grew 10.8% to $102.5 million.
For the second quarter, Veeva forecast revenues of $529-$531 million with an adjusted EPS of $1.00-$1.01. The market was looking for revenues of $531.16 million with an EPS of $1. Veeva expects to end the current year with revenues of $2.165-$2.175 billion and an EPS of $4.16. The market was looking for revenues of $2.17 billion with an adjusted EPS of $4.12 for the year.
Veeva's Growth
Recently, Veeva announced the addition of four new data applications to deliver real-time intelligence for both medical and commercial teams. Link data applications leverage the data platform and combine intelligent software automation with human curation to deliver higher accuracy and depth of content. Link is able to generate real-time intelligence across a growing number of areas, including key people, accounts, publications, trials, and many more areas of healthcare.
The new applications released by Veeva include Veeva Link for Key People, Veeva Link for Key Accounts, Veeva Link for Scientific Awareness, Veeva Link for Medical Insights, and Veeva Link+. Veeva Link for Key People allows customers to identify, profile, and keep track of global scientific and medical experts with over 20+ therapeutic ideas. Veeva Link for Key Accounts provides intelligence on major health systems, including profiles, people, and activities while Veeva Link for Scientific Awareness provides scientific awareness and sentiment data for specific medicines and therapies. Veeva Link for Medical Insights is a workflow application to curate and share medical insights, and Veeva Link+ helps companies to plan, collaborate, and review their engagements with medical and scientific experts across functions and regions.
Overall, this was an impressive quarter for Veeva. The company saw strong momentum in Core Veeva CRM, and added 12 customers in the quarter. It continues to add to the wallet share of its customers. As of the end of the quarter, more than 350 customers have at least two Development Cloud applications.
Veeva believes that there is enough market opportunity to grow. It classifies its market opportunity into two key segments – Commercial which includes Data and Analytics, and the Commerical Software; and R&D which includes Clinical, Quality, Regulatory and Safety. It has just penetrated 15% of its current $7 billion total addressable market opportunity on the R&D side. It plans to continue to invest in development activities in the current year to drive growth.
The company has many players to compete with. Niche players like Eclincloud offer a clinical research cloud platform with an end to end seamless integration capability. Medable is another player that offers a SaaS platform that helps companies attain and manage HIPAA compliant procedures. Saama Technologies is another clinical data and analytics company that leverages AI solutions for its data analytics platform. Veeva wants to reach $3 billion in revenues by 2025, and it will have to compete with several companies offering similar technologies to reach its goal.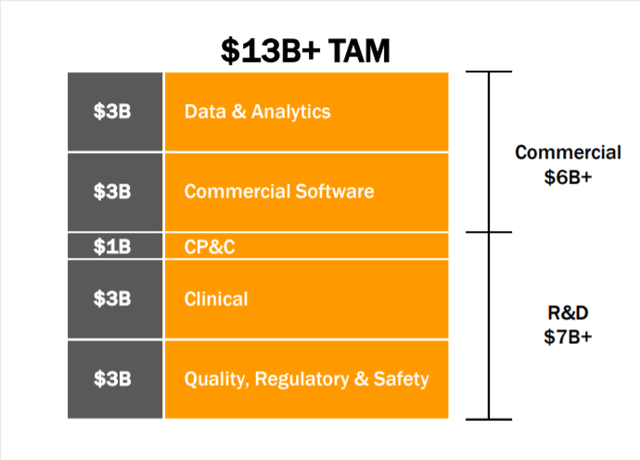 Veeva's stock is currently trading at $188.95 with a market capitalization of $29.2 billion. It had climbed to a record high of $343.96 in August last year. It hit a 52-week low of $152.04 in May.
Disclosure: All investors should make their own assessments based on their own research, informed interpretations, and risk appetite. This article expresses my own opinions based on my own research of product-market fit, channel execution, and other factors. My primary interest is in product strategy. While this may have bearing on stock movements, my writings tend to focus on long-term implications. The information presented is illustrative and educational, but should not be regarded as a complete analysis nor recommendation to buy or sell the securities mentioned herein. I am not a registered investment adviser and I am not receiving compensation for this article. I am an investor in this company.
This segment is a part in the series : Cloud Stocks