Posted on Thursday, Jun 24th 2021
According to a recent market report, the global Unified Communication-as-a-Service (UCaaS) market is estimated to grow at 10% CAGR to reach $26 billion by 2027. Recently, RingCentral (NYSE:RNG) announced its first quarter results that continued to surpass market expectations. RingCentral has been focused on leveraging its expanding partner portfolio to bring new services and capabilities into the market.
RingCentral's Financials
RingCentral's first quarter revenues grew 32% to $352.4 million, significantly ahead of the market's forecast of $339.94 million. Non-GAAP net income per diluted share was $0.27, ahead of the Street's estimates of $0.25.
By segment, software subscriptions revenue increased 34% to $325 million. Other revenues grew 11.2% to $27.1 million.
Among key metrics, Annualized Exit Monthly Recurring Subscriptions (ARR) grew 37% to $1.4 billion. RingCentral Office ARR increased 40% to $1.3 billion. Enterprise ARR, defined as customers with $100,000 or more in ARR, increased 62% to $500 million. Channel ARR increased 53% to $505 million.
For the second quarter, RingCentral expects revenues of $356.5-$359.5 million, representing an annual growth of 28% to 29%. It expects subscription revenues of $332-$334 million, representing annual growth of 29% to 30%. Non-GAAP EPS is expected to be $0.27-$0.28. For the full year, it expects revenues of $1.5-$1.51 billion, representing an annual growth of 28% to 29%. Non-GAAP EPS is expected to be $1.24 to $1.27.
RingCentral's Growing Partnerships
RingCentral recently announced a partnership with Deutsche Telekom. By combining Deutsche Telekom's network presence with RingCentral's UCaaS and Contact Center as a Service, the two companies will be able to create a mobility-centric, flexible, easy-to-use, and secure cloud communication solution. The partnership will give all businesses the benefit of next-generation communication and collaboration capabilities. It will offer Deutsche Telekom's customers a co-branded version of RingCentral's service, RingCentral Video, as a solo solution. It also expanded its partnership with NICE to combine its market leading solutions with future innovation and new geographies.
Last year, RingCentral had entered into a partnership with Alcatel-Lucent. Recently, as part of that integration, the two companies released Rainbow Office, a UCaaS solution, in the United Kingdom. Rainbow Office will allow users to efficiently and securely collaborate from anywhere and on any device using a single enterprise solution that will leverage RingCentral's industry-leading integrated Message Video Phone capabilities. Rainbow Office will provide users with access to HD audio and video, virtual backgrounds, screen share capabilities, the ability to check presence, share files, and seamlessly switch between devices with integrated carrier-grade voice.
Besides expanding partnerships, RingCentral has also been releasing new products. Recently, it announced the expansion of its meeting room capabilities. Some of the new features released include voice-activated controls that enable users to start and join meetings through a touchless experience and the ability to control the meeting from a mobile device. Additionally, RingCentral Rooms will now be compatible with Logitech Rally devices and Windows devices and appliances to make RingCentral Rooms accessible to a wider audience.
The UCaaS market sees significant competition in the space. But RingCentral appears to be doing well. Analysts believe that RingCentral is able to stave off competition through its technological prowess and a well-defined go-to-market strategy. RingCentral offers a significantly advanced selection of its messaging, video, and phone platform. Its growing partner portfolio that has relationships with players like Avaya, Atos and Alcatel-Lucent have helped it gain access to a bigger market opportunity. Additionally, by developing products with these legacy vendors, it has managed to give the channel access to porting tools that allow customers to transition their systems in a relatively seamless manner.
According to a Synergy research group report published earlier this year, RingCentral led the industry with a 20% market share. Microsoft and Zoom are inching their share upwards, and their market shares grew by almost 10% last year. But, as the infographic below represents, they still have a long gap to cover.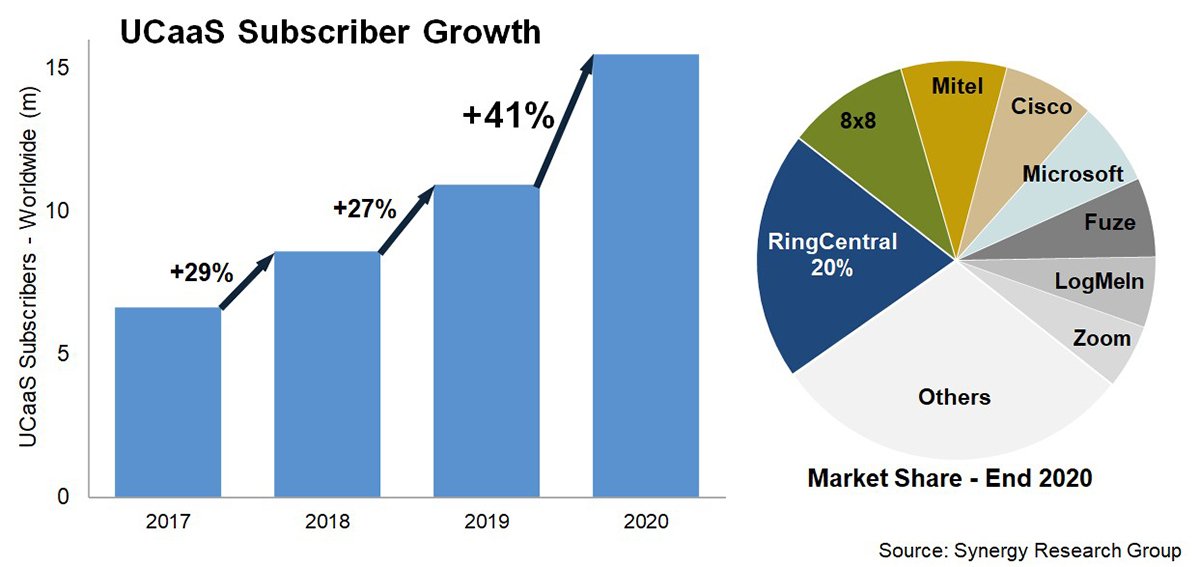 Its stock is currently trading at $297.31 with a market capitalization of $27 billion. It touched a 52-week high of $449.00 in February. It was trading at a 52-week low of $229.00 in May.
Disclosure: All investors should make their own assessments based on their own research, informed interpretations, and risk appetite. This article expresses my own opinions based on my own research of product-market fit, channel execution, and other factors. My primary interest is in product strategy. While this may have bearing on stock movements, my writings tend to focus on long-term implications. The information presented is illustrative and educational, but should not be regarded as a complete analysis nor recommendation to buy or sell the securities mentioned herein. I am not a registered investment adviser and I am not receiving compensation for this article. I am an investor in this company.
This segment is a part in the series : Cloud Stocks