Posted on Thursday, Jul 30th 2020
According to a recent MarketsandMarkets report, the global Security and Vulnerability Management Market size is expected to grow 4.5% annually to $15.5 billion by 2025 from $12.5 billion in 2020. The growth in the market is attributed to the increasing number of cyber attacks, and the increasing cyber awareness across developing economies.
Tenable's Offerings
Maryland-based Tenable (NASDAQ: TENB) was set up in 2002 by Jack Huffard, Renaud Deraison, and Ron Gula to address the IT vulnerability market. Since then though, the company has expanded its portfolio to cater to the threats faced by the adoption of cloud services in an organization. Tenable's offerings help protect connected devices and compute platforms. Today, more than 30,000 organizations around the globe use its products and services to reduce their cyber security risk. Tenable's big claim to fame was its subscription-based model for its cyber security management tools.
Tenable calls its approach to cyber security as Cyber Exposure, a discipline for managing and measuring cyber security risk in the digital times. It has been building its solutions to address vulnerability assessment, address modern attack surfaces, and provide analytics that can translate vulnerability data into business insight.
Its platform is built to be a single stop Command Center for an organization's Chief Information Security Officer. It provides this office with unified visibility into the organization's state of security and helps it prepare security teams to focus on remediation.
Its enterprise platform includes Tenable.io and SecurityCenter. Tenable.io is its SaaS that manages and measures cyber exposure across a range of traditional IT assets. SecurityCenter is built to manage and measure cyber exposure across traditional IT assets. It has been built to run on premise, on the cloud, or on a hybrid environment.
Tenable has been adding to its portfolio through acquisitions. In December last year, it announced the acquisition of industrial security startup Indegy for an estimated $78 million. Indegy was a leader in industrial cyber security that provided organizations with visibility, security, and control across operational technology (OT) environments.
Tenable believes that the acquisition will help it become a pioneer in industrial cybersecurity by being able to deliver the industry's first unified, risk-based view of IT and OT security. The acquisition will help it deliver on its Cyber Exposure strategy to help organizations understand and reduce cyber risk across the entire modern attack surface. Prior to the acquisition, New York-based Indegy had raised $36 million in funding from investors including Shlomo Kramer, Vertex Ventures, and Liberty Technology Venture Capital. Since Indegy was privately held, it did not disclose its financials.
The enterprise vulnerability market is fraught with competition. According to a recent IDC report, Tenable was ranked the leader in global market share of revenue for 2018 and 2019 in the industry. Tenable accounted for 28% of the $1.2 billion market. IDC attributes Tenable's leadership to its ability to deliver visibility across the modern attack surface, including IT, OT, and cloud environments; its expertise in helping help organizations quantify cyber risk; and its research team that supports its customers through the process. Qualys is a big competitor for Tenable and it accounts for 23% of the market share, followed by Rapid7 at 18% share.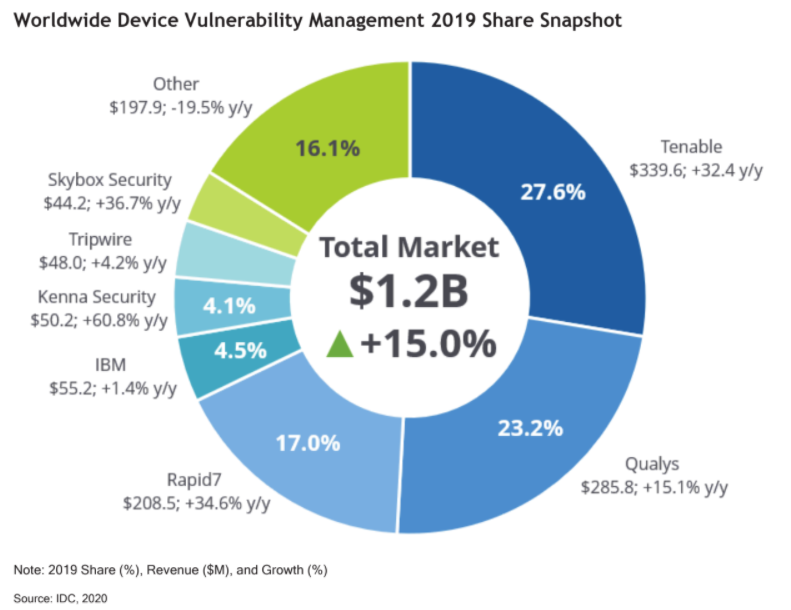 Tenable's Financials
Tenable recently announced its fiscal second quarter results. Revenues for the quarter grew 26% over the year to $106.2 million, ahead of the market's estimates by 5%. EPS was $0.04, which was better than the market's estimated loss of $0.05 per share and significantly better than previous year's loss of $0.10 a year ago.
Among key metrics, calculated current billings grew 13% to $111.2 million. It added 341 new enterprise platform customers and 50 net new six-figure customers.
For the third quarter, Tenable expects revenues of $108-$110 million with an EPS of $0.02-$0.03. It expects to end the year with revenues of $428-$433 million with an EPS of $0.00-$0.03. The market was looking for revenues of $107.8 million for the quarter with a loss of $0.05 per share and revenues of $426.34 million for the year with a loss of $0.24 per share.
Tenable went public in 2018 and raised $250 million at a valuation of $2.1 billion. It had raised $309.8 million in four rounds of funding from investors including Accel, Insight Partners, and In-Q-Tel. In its last private round, Tenable was valued at $1 billion.
Currently, its stock is trading at $30.62 with a market capitalization of $3 billion. It had touched a 52-week high of $32.15 in May this year. The recent global turmoil had sent the stock falling to a 52-week low of $16.28 in March.
This segment is a part in the series : Cloud Stocks