Posted on Friday, Nov 20th 2015
According to a Research and Markets report, the global Business Intelligence and Analytics Software Market is expected to grow from $17.90 billion in 2014 to $26.78 billion by 2019, at a CAGR of 8.4%. Gartner adds that with the proliferation of data sources and applications, analytics is shifting from being a singular tool to become more omnipresent, embedded in various applications and infrastructures. One vendor in this evolving BI and analytics space is Alteryx, which is seen as a prospective Billion Dollar Unicorn.
Alteryx's Offerings
Irvine, Californa-based Alteryx, Inc. was founded in 2010 by CEO Dean Stoecker, CCO Olivia Duane Adams and CTO Ned Harding. They had originally registered the company as an LLC in 1997 with a vision to build tools that would allow customers to engage in strategic applications and conduct tactical execution against those strategies. They started out as system integrators offering cloud-based analytics applications, and it was in January 2006 that they rolled out the first version of the Alteryx product that they sell today. It grew out of the need to create one single tool with many capabilities that could manage various technologies with fewer resources. Read more in my interview with Dean available here.
The Alteryx Designer application democratizes business intelligence technology by enabling people in marketing, sales, finance, and other line-of-business roles to analyze their day-to-day decisions. It makes it easy for them to do so by providing them with a single workflow for data blending, analytics, and reporting. This allows users to blend insights from disparate, internal, third party, and cloud-based data sources and analyze them using over 60 prebuilt tools for spatial and predictive analytics. All this is done in an easy-to-use interface without the need for any coding or specialists. So, an analysis that would normally take four weeks could be done in five days with Alteryx.
Alteryx also offers prebuilt data models in its "analytics gallery". Customers can use the models that other organizations have used for similar problems and they can even submit their models to the gallery.
Alteryx has more than 1,000 customers ranging from brands like Best Buy, Chipotle, Dunkin' Brands, Experian, Kaiser, Ford, Ingersoll Rand, Kroger, Levi Strauss & Co., McDonald's, Verizon, and Unilever to growing organizations such as Rosenblatt Securities, Vertix, and Consumer Orbit. It serves more than 200,000 users. It has a development center in Broomfield, Colorado, and regional offices in Silicon Valley, Dallas, Chicago, the United Kingdom, and Australia.
Alteryx's Financials
Alteryx has a subcription-based model. For the Alteryx Designer application, it charges $3995 per user for a 3-year subscription while a 1-year subscription costs $5,194. Subscription to the Analytics Gallery per user costs $1950 for a year and $1500 for three years.
Alteryx was bootstrapped initially with a little help from family funds. In 2011, they raised $6 million in funding from SAP Ventures because they felt they needed guidance, support and assistance navigating the bigger ecosystem. Since then it has raised $163 million from investors including Insight Venture Partners, Iconiq Capital, Meritech Capital Partners, Sapphire Ventures, and Toba Capital. It raised $85 million in its latest round in October 2015 that is reported to yield a valuation approaching $1 billion. Alteryx plans to use the funds to expand internationally, invest in research and development and increase its sales and marketing efforts. By 2016, Alteryx expects to increase the number of employees worldwide by 67% and focus on operations in Western Europe.
The 2015 Magic Quadrant for Business Intelligence and Analytics Platforms places Alteryx in the Visionaries quadrant along with Tibco Software and Panaroma Software. The leaders quadrant is led by Tableau Software but is overcrowded with the likes of Qlik, Microsoft, SAS, Oracle, IBM, and SAP. Alteryx has partnerships with Tableau, Qlik, and Cloudera that should help it innovate and grow and join the Billion Dollar Club.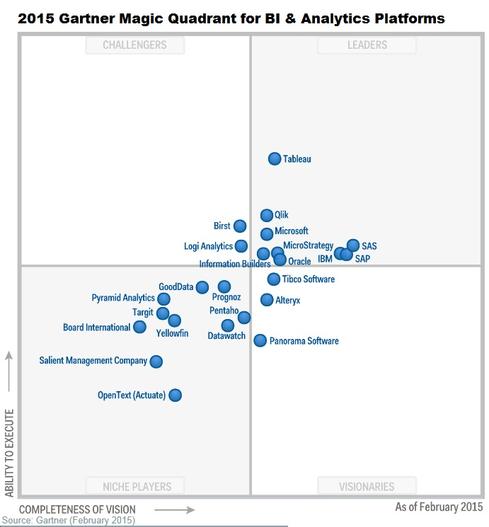 More investigation and analysis of Unicorn companies can be found in my latest Entrepreneur Journeys book, Billion Dollar Unicorns. Unicorns will also be discussed with some special guests during our 1M/1M Roundtable programs over the next few weeks. To be a part of the conversation, please register here. The term Unicorn was coined in a TechCrunch article by Aileen Lee of Cowboy Ventures.
This segment is a part in the series : Billion Dollar Unicorns