Posted on Tuesday, Jul 3rd 2018
According to a recent eMarketer report, the US programmatic advertising industry is expected to reach $46 billion this year. By 2020, 86.2% of all digital display ads are expected to be bought via automated channels. Billion Dollar Unicorn AppNexus is a leading player in the segment that was expected to go public this year. But earlier last month the company was bought over by AT&T.
AppNexus' Financials
New York-based AppNexus was founded in 2007 by Brian O'Kelley and Mike Nolet as an advertising exchange platform for trading solutions and marketplaces for Internet advertising. The platform has evolved since and now it also provides analytical capabilities on a real-time basis.
AppNexus operates on a transaction fee basis. It charges an 8.5% fee to connect buyers and sellers on its platform. AppNexus is privately held and does not publish detailed financials. The market estimates that the company was operating at a revenue run rate of nearly $200 million. It is expected to be profitable since 2014.
AppNexus' Delayed IPO
Till recently, AppNexus was venture funded with $321.5 million in funding from investors including WPP, Technology Crossover Ventures, Venrock, Tribeca Venture Partners, Microsoft, First Round, Kodiak Venture Partners, Coriolis Ventures, Ron Conway, Ben Horowitz, Khosla Ventures, and Marc Andreessen. In September 2016, it had raised $31 million at an undisclosed valuation. In 2016, AppNexus was rumored to have filed confidentially at a valuation of $2 billion. The market was expecting it to go public by 2017, but the company did not disclose any further plans. Analysts estimate that weak performance of Snapchat on the exchange, coupled with the fact that AppNexus was not really in need of a cash infusion, caused the listing delay.
Earlier last month, AT&T (NYSE: T) announced plans to acquire AppNexus for $1.6 billion. AT&T is already a big customer for AppNexus. AT&T is yet to report its second quarter results. It ended the first quarter with revenues of $38 billion with an adjusted EPS of $0.85. For fiscal 2017 AT&T's revenues of $160.5 billion were lower than $163.8 billion that it had recorded a year ago. Most of the reduction in the revenues was in the services segment. AT&T attributes this to declines in legacy wireline services and wireless service revenues. It has been trying to build alternate revenue streams to drive growth.
AT&T plans to leverage the AppNexus acquisition to establish a strong presence in the digital advertising space. According to a Forrester report published last year, AppNexus was at the cusp of moving from a strong performer to the leader segment. Additionally, within the programmatic advertising space, AppNexus is a leader. In a report published last year by ServerBid which evaluated programmatic publishers in the Alexa top 5,000, 45% publishers used AppNexus. Another player, Index Exchange came in second at 41%.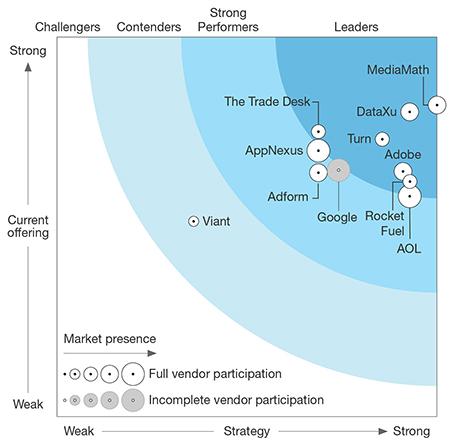 The Forrester Wave: Omnichannel Advertising Demand-Side Platforms, Q2 2017 (Source: Forrester Research)
The recently approved Time Warner deal in AT&T's favor, presents it with access to a television and studio content library. By providing an integrated offering of broadband and wireless service, AT&T will be able to provide highly targeted digital advertising. Also, AT&T will be adding to its international presence with the addition of AppNexus's customers. It will be interesting to see how the acquisition pans out for the digital advertising segment in the future.
More investigation and analysis of Unicorn companies can be found in my latest Entrepreneur Journeys book, Billion Dollar Unicorns.
This segment is a part in the series : Billion Dollar Unicorns