Posted on Tuesday, Nov 7th 2017
According to Gartner, the global spending on information security products and services will grow 7% this year to $86.4 billion and to $93 billion by 2018.
FireEye's Financials
Sun Microsystems's veteran Ashar Aziz had set up FireEye (Nasdaq: FEYE) in 2004 to cater to a gap he had identified between the evolution path of malware and the development of a blueprint for defenders. He developed FireEye as a virtual machine introspection product that could help customers protect their networks from malware that would have otherwise bypassed traditional signature-based defenses. FireEye's offerings supplement existing firewalls, IPS, anti-virus, and gateways by blocking attacks across multiple platforms.
FireEye recently reported its third quarter results that were better than what the market expected. Revenues grew 1.7% over the year to $189.6 million, ahead of the consensus of $186 million and ahead of the company's earlier guidance of $183-$189 million. The growth in the revenue was attributed to the shift in the business model from product-based to subscription-based. FireEye continued to report losses and ended the quarter with a loss of $0.04 per share compared with the market's expected loss of $0.07 per share and loss of $0.18 per share a year ago.
By segment, Product revenues fell 30.5% to $30.5 million and subscription and services revenues improved 11.6% to $159.1 million. Billings for the quarter fell 6% to $201.7 million. During the quarter, FireEye added more than 230 new customers and closed 43 transactions with an individual value of over $1 million.
For the current quarter, FireEye forecast revenues of $190-$196 million, with a mid-point of $193 million which was lower than the market's estimate of $195 million. Billings are projected to be $210-$230 million and it expects to report a loss of $0.03 per share to breakeven. The market was looking for loss of a penny a share. FireEye estimates to end the year with revenues of $739-$745 million compared with the market estimate of $740.8 million. It expects to end the year with a non-GAAP loss of $0.16-$0.19 per share, compared with the Street's forecast loss of $0.21 per share.
FireEye's Growth
Over the past few quarters, FireEye has been losing market share to its competitors such as Checkpoint Software, Palo Alto Networks, and Fortinet. A Piper Jaffrey survey report proves that demand for the company's products have worsened as most customers believe that advanced threat protection needs to be a feature on a larger platform, and not a separate product. FireEye has assembled a larger platform of integrated products, but when compared with competitors, some of the innovations may have come too late.
Here is an interesting infographic from the survey, courtesy Seeking Alpha which shows how Fire Eye is at the cusp of a strong performer and a leader position.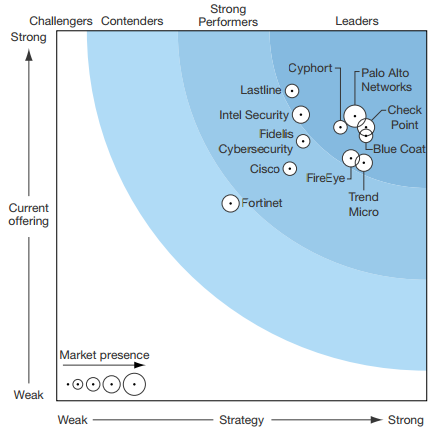 FireEye was a pioneer and a leader in the malware sandbox niche. Its malware sandboxing technology to detect cyberattacks was known to be among the best at detecting advanced security threat before they found their way into a network. But over the past years, network security vendors have improved their offerings by bundling them with other security products like malware sandboxes, threat intelligence feeds, and network analytics tools. Competitors have come up with offerings like Symantec's Bluecoat, Checkpoint's Sandblast, and Palo Alto Network's Wildfire, resulting in market share erosion for FireEye.
FireEye appears to be trying to reverse that trend now. It has been working on innovation of its products. It upgraded its Helix offering with a version that incorporates alert management capabilities designed with the expertise of Mandiant incident responders and FireEye-as-a-Service analysts. It has also linked its intelligence context to all events in Helix so that security analysts are able to make the best risk-based decisions as they manage and prioritize their alerts and events from FireEye products or third-party products.
Additionally, it is working on its next-generation endpoint product HX to drive growth. It has successfully released the signature-based malware prevention capability with its Q3 release of HX version 4.0. By adding legacy anti-virus capabilities, HX is now a replacement for legacy security endpoint products and can be deployed as an appliance, virtual or cloud solution, or as a complete Endpoint Security platform that detects and scales an organization's security experts to perform forensics.
Finally, it has also made important improvements to the network security product NX. By analyzing the breaches over the last 10 years, FireEye has developed a detailed understanding of how advanced attackers move through an enterprise. The release of SmartVision for NX leverages this expertise to detect movement and allows FireEye to alert across all stages of an attacker's kill chain and operations.
Its stock is trading at $14.55 with a market capitalization of $2.7 billion. It touched a 52-week high of $18 earlier last month. It has recovered from the 52-week low of $10.35 it had fallen to in March this year. FireEye had listed on the NYSE in 2013 at a valuation of $2.3 billion. Four years later, it doesn't appear to have grown much in terms of valuation. On the other hand, its valuation has shrunk from the once lofty $8 billion valuation it had soared to, back in 2014. The stock has has never seen those levels since.
More investigation and analysis of Unicorn companies can be found in my latest Entrepreneur Journeys book, Billion Dollar Unicorns. The term Unicorn was coined in a TechCrunch article by Aileen Lee of Cowboy Ventures.
This segment is a part in the series : Billion Dollar Unicorns