Posted on Tuesday, Aug 19th 2014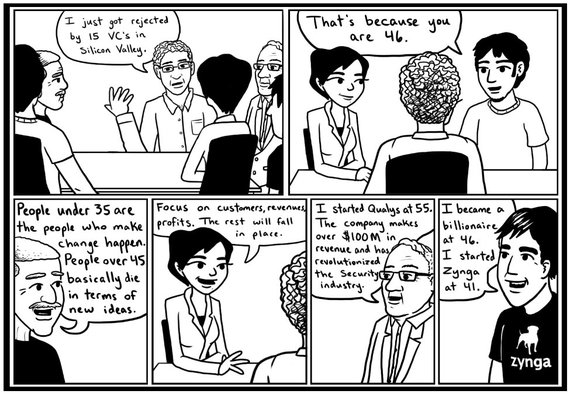 Is there an age bias in Silicon Valley? Perhaps.
It is true that all the entrepreneurs who have built major breakthrough technology companies have been very young. Apple, Microsoft, Netscape, Google, Facebook – all were founded by entrepreneurs in their twenties (or teens).
However, if you look closely, a large number of technology companies have actually been founded by entrepreneurs in their forties.
As I studied the issue, the key differentiating factor stared at me: domain knowledge.

Let's look at a case study.
By the time Chris Cabrera started Xactly, a cloud-based provider of sales compensation management solutions, he had already spent over a decade in a public company that specialized in the exact same domain. Chris ran worldwide sales, marketing and business development for Callidus Software since 1998, and helped take that company public in 2003. His team took the company from zero to $100 million revenue run rate.
Chris knew everything there was to know about the market, its nuances, how the customers buy, etc. He also foresaw that the industry would eventually shift to SaaS, tried to convince his team to shift gears, and they chose not to listen.
So he left and started Xactly in 2005. Exactly the same value proposition, but a cloud play.
Chris was ~40, and it did not prevent him from raising $72.5 million in venture capital over the next decade or so.
Fast forward to 2013. The company is going gangbusters. It is the category leader, with over $100 million in revenue. An IPO is definitely in the cards at a strong valuation. [You can read my May 2013 interview with Chris here.]
Does this story reflect age bias to you?
If anything, in enterprise software, or in other areas where sophisticated product marketing, sales, business development or engineering skills are required to succeed, experience is treated as a plus, not a minus.
Your thoughts? Experiences? Anecdotes?
This segment is a part in the series : Entrepreneur Dysfunctions in Cartoons