Posted on Wednesday, Aug 6th 2014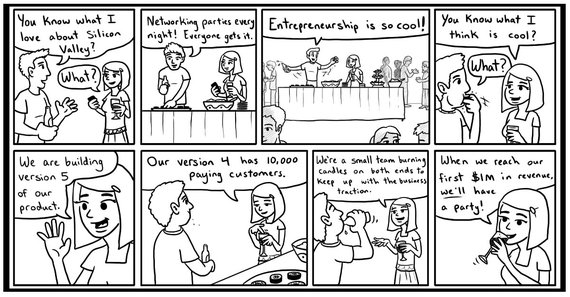 There are, really, two Silicon Valleys.
One, that has a rollicking social life, lots of parties, lots of fun.
The second, however, is a relatively tame world where entrepreneurs put their heads down and work. 16 hour days. Juggling large To Do Lists with small teams and limited resources.

These days, the party scene has shifted north to San Francisco.
That had happened once before during the Dotcom bubble days.
That bubble crashed in 2000.
This one, perhaps, will last longer, because alongside the bullshit, there is quite a bit of actual innovation, real businesses being built – both in San Francisco, and in Silicon Valley. And, for that matter, in a lot of other places around the world.
But the misconception among entrepreneurs that an entrepreneur working in a major startup hub gets to party every night is a lie.
A damn lie!
Don't believe a word of it.
Cartoon: Book by Sramana Mitra and Irina Patterson. Art by Mike Varouhas.
This segment is a part in the series : Entrepreneur Dysfunctions in Cartoons