Posted on Wednesday, May 20th 2009
[This post, with a shorter list, was published earlier. An updated version is being published today.]
As a self-taught entrepreneur, I have done my own digging into entrepreneurship literature. When I started writing my book series, Entrepreneur Journeys, I did a lot of thinking on what is it that I am looking for in an entrepreneurship book. This list is a synthesis of that research. I first published it in February of this year, and have added eleven new must-reads to the original ten. Take a look and join the discussion with your own recommendations.
1. High Tech Start Up, Revised and Updated: The Complete Handbook for Creating Successful New High Tech Companies by John L. Nesheim
I read this book very early on. It explains a lot of the intricacies of the entrepreneurial ecosystem, including how equity is shared among founders, how VC firms operate, etc. For a beginning entrepreneur, this is very useful to get up to speed on the basics.
2. Crossing the Chasm by Geoffrey A. Moore
This is the classic on how entrepreneurial ventures go to market. It focuses on good examples and explains core concepts of strategic and product marketing like segmentation, whole products, and of course, the famous "chasm." I recommend this to all aspiring entrepreneurs, and am often surprised to see that they have not read the book yet. It's a must-read.
3. Founders at Work: Stories of Startups' Early Days (Recipes: a Problem-Solution App) by Jessica Livingston
This is a format I had looked for before I chose to write my own series: how did they do it? Jessica's book traces the journeys of several entrepreneurs. Good first-hand feel.
4. Entrepreneur Journeys (Volume 1) by Sramana Mitra
This is my book series, and the point of it is to give the readers a first-hand experience of sitting down with successful entrepreneurs and listening to how they did it. Because of my background as a strategy consultant, all the discussions contain heavy strategy elements. The book is readable because of its narrative, story-telling format, unlike most business books, which was my objective. I also tried to leave the entrepreneurs' voices accessible, unencumbered by my voice.
5. Atlas Shrugged (Centennial Edition) by Ayn Rand
The best philosophy book that celebrates the entrepreneurial spirit. The character of Hank Rearden is what most entrepreneurs relate with generally. For a woman, Dagny Taggart is an inspiring role model. My favorite character in the book, however, is Francisco D'Anconia, the Argentinean copper mogul. There is something playful about Francisco that I always found charming. The rest of the characters take themselves way too seriously.
6. Built to Last: Successful Habits of Visionary Companies by Jim Collins
Do you want to build a company to last beyond your own personal career? This book traces how 'Built To Last' companies differ from the rest. Personally, I have just as much respect for entrepreneurs who have built to flip, or built to enjoy. Nonetheless, it is very interesting to see what sustains beyond the founders.
7. Good to Great: Why Some Companies Make the Leap…and Others Don't by Jim Collins
Similar theme. Explores good companies versus great companies. Again, take it with a pinch of salt, just because we're living in times that are making certain conditions (IPO, for example) very tricky. Pixar, to me, is a GREAT company, but it has not survived as an independent entity. Today, it rests inside Disney.
8. Jonathan Livingston Seagull by Richard Bach
More philosophy. Helps you address the "Why do we do this?" question. This is a fable that describes the quest of a seagull who is fed up by the daily squabbles over food in its flock, and is instead trying to learn to fly. The story does a very nice job of relating how people who think differently struggle to fit in, until they are able to escape the need to fit in. Entrepreneurs and innovators, by definition, do not fit in well within any set framework. But there is a certain level of doubt that comes with being young, and not being able to fit in. This book may set you free to be happy to not fit in.
9. Creating Minds: An Anatomy of Creativity Seen Through the Lives of Freud, Einstein, Picasso, Stravinsky, Eliot, Graham, and Gandhi by Howard Gardner
I like this book a lot because of its exploration of the psychology of creativity and innovation. I also like that it, once again, takes a somewhat biography/case study format, which, by and large, is my preferred way of learning business and entrepreneurship as well as creativity and innovation. Gardner is a developmental psychologist and the proponent of the now-famous "multiple intelligence" theory.
10. Banker to the Poor: The Autobiography of Muhammad Yunus, Founder of Grameen Bank by Muhammad Yunus
By far one of the most inspiring entrepreneurs of our time, Dr. Yunus discusses microfinance and his own entrepreneurial journey in Bangladesh.
11. Bootstrapping, Weapon of Mass Reconstruction by Sramana Mitra
The second volume of Entrepreneur Journeys collects the stories of a varied group of entrepreneurs who are united in their belief in the power of bootstrapping. As big corporations receive millions of dollars in government aid and VC funding slows, there are entrepreneurs who continue on the bootstrapping path, which has proven many times over to be a path to job and wealth creation.
12. The Art of the Start by Guy Kawasaki
Kawasaki, who changed the way Apple approached marketing and now has a startup, is not concerned with what you're starting — a new company, a new product line, a church, a school — it doesn't matter. What is important is that you can act on your ideas to create something that's meaningful.
13. Blue Ocean Strategy by W. Chan Kim and Renée Mauborgne
Kim and Mauborgne see today's industries as bloody "red oceans," overcrowded with competitors fighting over a shrinking profit pool. In urging companies to leave these red oceans behind and sail for "blue oceans," or untapped market space, by embracing innovation-based strategies, the authors turn on its head the long-held belief that competition-based strategies are the best approach.
14. The Monk and the Riddle by Randy Komisar
Komisar does away with case studies and frameworks in this narrative of two fictional entrepreneurs, whose journey is illuminated by Komisar's own as a "virtual CEO" of more than half a dozen companies.
15. The Long Tail by Chris Anderson
Anderson, the editor of Wired magazine, sheds few tears over what he says is the death of "common culture," where people watched the same TV shows and listened to the same songs on the radio. Web commerce has meant more choice — a digital music store can stock many, many more titles than the local record shop — and resulted in the development of niche markets.
16. Blueprint to a Billion by David Thomson
Thomson analyzes America's highest-growth companies, those 387 companies that have made an IPO since 1980 and grown to $1 billion in revenue, to provide a quantitative assessment of success patterns. His findings are presented in the form a seven linked "essentials" that entrepreneurs should put into practice.
17. Startup: A Silicon Valley Adventure by Jerry Kaplan
This account of life in the trenches as a tech startup is both a gripping story — Kaplan, founder of GO Corporation, which made pen-based computers, challenged the likes of IBM and Microsoft to bring his idea to market — and a valuable detailed account of the daily workings of a young company.
18. The Back of the Napkin by Dan Roam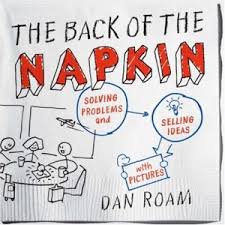 Anyone with a pen and paper can use visual thinking, argues Roam, and it is this kind of thinking that often enables people to see new solutions to problems. Equally important, visual thinking helps us explain ideas to other in a way that is powerful and immediate.
19. Outliers by Malcolm Gladwell
Gladwell reminds us that no one makes it alone — in case studies of people ranging from Mozart to Canadian junior hockey champions, he analyzes the confluence of culture, circumstance, timing, birth, and luck contribute to a person's success.
20. Made to Stick by Chip Heath and Dan Heath
What makes something memorable? The authors, one a business school professor and the other a teacher and textbook publisher, use everything from urban legends to advertisements to get the heart of "stickiness" — the art of making ideas unforgettable.
21. Tribes by Seth Godin
A tribe, says Godin, is a group of people connected to each other, to a leader and to an idea. Leaders bring about change by recognizing this and mobilizing tribes. Godin's assertation that change isn't asking permission but rather asking forgiveness after the fact is bold, but sometimes it may be what's needed.
22. Positioning: How To Test, Validate, And Bring Your Idea To Market by Sramana Mitra
In this book, I offer a close look at the process of sculpting your idea into a sharply defined "go to market" strategy. This is developed when entrepreneurs are clear about their position; such clarity, critical to the success of a business, is gained by asking the right questions. Like the first two volumes in the EJ series, Positioning uses a case study format.
23. Innovation, Need Of The Hour by Sramana Mitra
This fourth volume in the EJ series is about transformation innovation in market-leading businesses, something that I believe is more crucial than ever in the wake of the financial crisis. I lead specific discussions on bootstrapping and shoestring innovation, which remain the most successful ways to circumvent early-stage funding challenges in order to maintain freedom and control.
24. Vision India 2020 by Sramana Mitra
A call to Indian entrepreneurs everywhere, Vision India 2020 challenges and inspires readers to build the future now. In this "futuristic retrospective," I show how over the next decade, start-up companies in India could be turned into billion-dollar enterprises. Vision India 2020, which encompasses a range of sectors from technology to infrastructure, healthcare to education, environmental issues to entertainment, illustrates how even the most sizeable problems can be solved by exercising bold, ambitious measures.