Posted on Wednesday, Jan 25th 2017
Flash sales sites were part of the cool startups once. Venture capitalists put in money in these sites because they thought the sites would be strong competition to online and store-based retailers. The sites also started to carve out their own niches, with focus on fashion, shoes, and even home décor products. Initially, the businesses did well. Most flash sites were set up in 2008-2009 when the economy was in trouble and retailers were looking to offload merchandise. But as the economy picked up, the flash sites lost their glitz.
One Kings Lane's Journey
San Francisco-based One Kings Lane was a similar story. Founded in 2009 by Alison Pincus and Susan Feldman, the site aimed at becoming a curated destination for home and lifestyle brands. Based on the flash sales model, the site allowed US consumers to buy quality home products at a discounted price.
The company tied up with suppliers to supply them with leading home brands, antique, designer, and vintage products and offered these products at big discounts. It also tried to attract customers through value added services such as complimentary interior designing consulting services at its design studios in San Francisco and New York.
The site was well received in the beginning. Within three years of its launch, it had amassed a population of five million members accessing a portfolio of nearly 2,000 products. By 2013, it was voted as one of the Top 5 Most Admired Online Retailers in STORES Magazine's poll of the National Retail Federation.
One Kings Lane was also earning revenues. By 2011, it had clocked revenues of $100 million in the year and was looking to double it by 2012. But unsurprisingly for the business that it operated in, the company was still not profitable.
That did not stop venture capitalists from continuing to fund the company. By 2016, it had raised $229 million in funding from investors that included names like Kleiner Perkins Caufield & Byers, First Round Capital, Reid Hoffman, Greylock Partners, TriplePoint Capital, Marissa Mayer, Tiger Global Management, Mousse Partners, and Scripps Networks Interactive. It last raised funds in 2014 when it secured $112 million at a valuation of $812 million.
As the economy started to pick up, flash sale sites were beginning to suffer. For home goods sites like One Kings Lane, it was a bigger worry because furniture and home décor categories don't really run out of fashion each season. Unsold merchandise at retailers at discounted prices became difficult to come by. One Kings Lane still continued to try its luck. It came up with an auction-based web site for higher end décor called Hunters Alley. But little gains were made financially and the initiative was shut down.
Its glory days were now over. Investors realized the folly in their ways and began to revalue investments that did not look to turn profitable. By 2015, market valuations became more sensible. One Kings Lane started looking for a buyer in 2015. It took it a few months to find someone interested in the assets – that too at a flash discount.
One Kings Lane finally sold off to Bed Bath & Beyond for a paltry $11.8 million in June 2016. The site is now being operated by the retailer. Given below is a very graphic view of One Kings Lane's valuation, courtesy Pitchbook that demonstrates the brutal death of the etailer.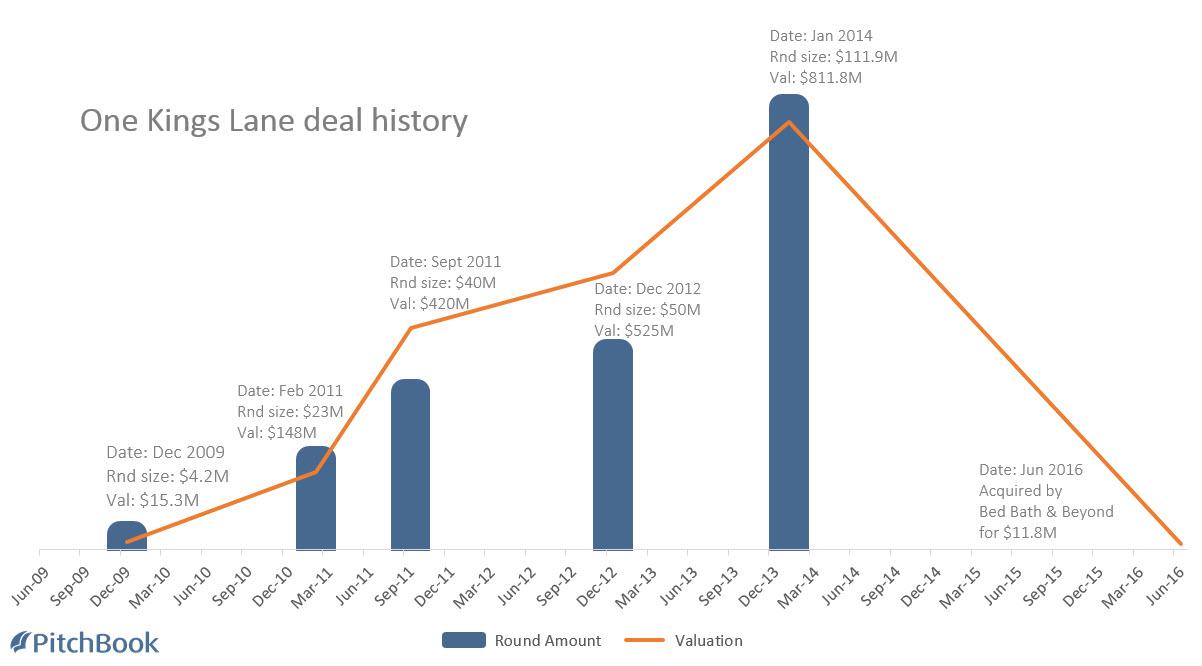 Photo Credit: Aleksey Gnilenkov/Flickr.com
This segment is a part in the series : Death by Overfunding