Posted on Monday, Jan 24th 2011
According to ComScore, online sales in the U.S. in November and December grew 12% over the year to $32.6 billion. Cyber Monday, the Monday following Thanksgiving, was the biggest online spending day of the holiday season in the U.S. with sales of $1.028 billion. This was the first time ever that online sales crossed the billion-dollar mark in a single day. According to the report, free shipping offers helped to fuel such strong demand. Green Monday, the second Monday of December, was the second-biggest day with sales of $0.95 billion.
The latest SpendingPulse report released by MasterCard Advisors also claims that online sales in December increased 17.6% over the previous year, making it the biggest December jump since 2007. Below is a graph representing weekly online holiday retail sales.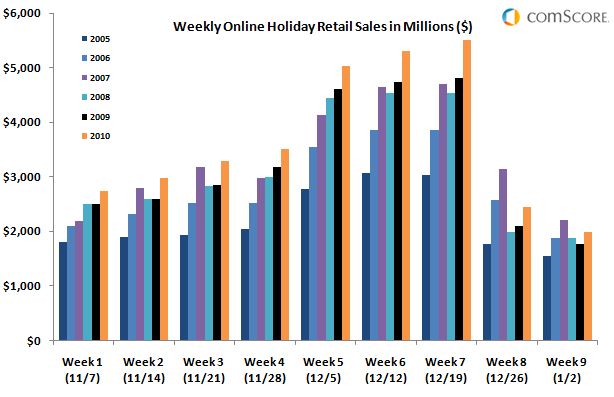 eBay's Financials
eBay's (NASDAQ:EBAY) Q4 revenues grew 5.2% to $2.5 billion, beating the market's expected $2.49 billion target. EPS of $0.52 was also ahead of the Street's expected $0.47.
Marketplace revenues rose 4% to $1.52 billion with gross merchandise volume excluding vehicles growing 6% to $15 billion. PayPal continued to drive strong growth and its revenue increased 22% over the year to $0.97 billion. Total payment volume increased 26% to $26.9 billion.
In other statistics, eBay.com recorded 5% growth in the number of active users to end the year with 94.5 million users. PayPal had 94.4 million active registered accounts at the end of the year.
For the year, eBay's revenues increased 5% to $9.16 billion with EPS growing to $1.36 from $1.83 in the previous year.
For the current quarter, eBay projects revenues of $2.4 billion–$2.50 billion with EPS of $0.34–$0.36. Analysts were expecting revenues of $2.42 billion with EPS of $0.45. For 2011, eBay expects revenues of $10.3 billion–$10.6 billion with EPS of $1.90–$1.95. The Street was expecting revenues of $10.2 billion with EPS of $1.85.
eBay's Focus on Mobile Shopping
eBay continued to focus on mobile shopping, and sales in this segment more than triped to $2 billion in the year. The company expects gross sales through smartphones and tablets to double to $4 billion in 2011. Mobile sales in the U.S. grew 175% to $0.85 billion. Germany and the U.K. were important mobile destinations, together contributing nearly a third of the mobile revenues for the quarter.
To further improve mobile sales, eBay is working to improve the user experience. They also recently acquired CriticalPath, a mobile application development setup. The Oregon-based 65-employee start up helped to develop iPhone apps for eBay sites including eBay.com, StubHub, and Shopping.com. The eBay iPhone app alone has been downloaded more than 14 million times since its launch in 2008. All eBay mobile apps have been downloaded more than 30 million times in eight languages across 190 countries.
eBay's Global Expansion
eBay also acquired brands4friends, Germany's largest online fashion and lifestyle shopping club, for €150 million (~$200 million). brands4friends.de boasts of 4.5 million registered users with sales in September crossing €1 million (~$1.33 million) a day. Besides Germany, the company has Japanese operations through brands4friends.jp and a stake in SecretSales.com, a U.K.-based shopping club. The club releases limited daily special offers to sell high-quality goods from fashion and lifestyle brands at significantly reduced prices exclusively to its members. eBay is looking to expand in Europe and the fashion segment through the acquisition. Their research shows that online shopping clubs account for nearly 20% of online fashion sales in Europe.
Meanwhile, they are also working toward expanding PayPal's operations in China. According to Analysys, a Chinese research firm, China's online payment market is estimated to be worth Rmb 1,000 billion (~$151 billion) for the year 2010. PayPal recently signed up with Chongqing, one of China's largest municipalities to offer some of their services, including foreign exchange settlement, to Chinese entrepreneurs selling overseas.
eBay Acquires Milo
eBay also recently acquired Milo, a shopping search engine, for $75 million. Milo has an inventory collated from 140 merchants and over 50,000 stores in the U.S. and helps users find the products they are looking for in stock in a store close to their location. According to Forrester Research, researching online and buying offline, known as cross-channel shopping, will grow to $1.3 trillion and account for nearly 50% of total retail sales by 2013. eBay is hopeful that Milo's acquisition will help them address this shopping channel.
eBay integrated Milo's technology in their comparison shopping app, RedLaser, and introduced GiftsNearby, a temporary holiday offering that lets buyers find Christmas gifts at local stores. The site was aimed at buyers who failed to order Christmas gifts in time. According to eBay, GiftsNearby was an experiment to "make eBay an even more compelling starting point for consumers" and may later be extended to other holidays on which gifts are given, such as Valentine's Day.
Now that eBay has started acquiring vertical properties, it may be a good idea for them to look at vertical search players such as TheFind, a comparison shopping engine for lifestyle products. Earlier last year, TheFind became the second-largest shopping search engine, ahead of Yahoo!, with nearly 11.82 million visitors as of June 2010, in part because of its strong position in both local and mobile shopping features. Within comparison shopping, Google Product Search remained a leader with over 18.8 million unique visitors.
The stock is trading at $30.02 with a market capitalization of $39.14 billion. It touched a 52-week high of $31.64 in November of last year.